You can support our work by taking part in the Broadland Community Lottery.  Since the lottery started we have received nearly £1500.  It is an excellent way of regular giving of small amounts with a little excitement.  You could win a jackpot. To play, visit www.communityatheartlottery.com and search for Reepham Rotary.

Our Business Meeting concentrated on the Reepham Food Festival. This is the Club's 5th event. Ian and his team have been working hard to make it a success.  May 29 10am-4pm in the Market Square.  Free to all. See www.reephamfoodfestival.org.uk
Jolly boating weather
Last Saturday saw a small party on the Broads with the Nancy Oldfield Trust – showing us the ingenious adaptations made to boats to allow for disability.   The Club has made a donation for this excellent work.
Cycling for street kids
Coen van Beuningen is cycling to raise money for 1morechild who educate Ugandan street kids and prepare them for employment.   In June he will be going from Candir to Giresun in Turkey – 458 miles over 5 days. This is the ninth annual leg of 25 between Oxford and Sydney.
We had a very sobering presentation from the Rotary Club of Kyiv who have been planning their response since the first invasion in 2014. They have quickly responded with sourcing and distributing humanitarian and medical aid to communities in the front line. They gave us a very good picture of the continuing need which will inform our next actions. In most cases, sending money to buy goods sourced locally.
A very convivial evening with partners and friends. We celebrated St George's Day with the assistance of Ven Arthur Hawes who took us through what is known of the saint, the legends that grew up around him and the many buildings throughout the world dedicated to him.
A business meeting and our AGM.  Minutes will be in the members' area soon.  The principal business was further support for the people of Ukraine.  Many members had spent 8 April helping to pack and load a fleet of vans with supplies as part of a team led by Simon Feneron of The Crown in Banningham. The club agreed a further £1000 to cover the cost of hiring and sending one of the vans.
We enjoyed Robert's catering at the Scout Hut and had a chance to see the works in progress which members have undertaken. This was followed by a discussion on how we can do more to help the displaced people of Ukraine. Some interesting ideas will be carried forward to the business meeting for agreement.
An interesting debate on the need to apologise for history.  We agreed that there were some things in history that we would not condone today. However, the practicality and benefits of apology and and reparation was doubted.
We visited the Secret Street – the remains of medieval buildings under present day Norwich.  With an expert guide from the Shoebox Community Hub – an interesting visit and a worthwhile charity – warmly recommended.  This was followed by supper at St Michael's where we welcomed chef Avril back from her travels.
An evening of fellowship under the rule of President Elect Jim Fraser. Some ideas developed on how we might further assist people displaced from Ukraine. More will be welcome and we will be refining these at our 4 April meeting.
Our Business Meeting looked at the ways we will meet and eat as we begin to say goodbye to most Covid restrictions. We debated our response to the appalling situation in Ukraine and decided to send our entire emergency fund of £3000 to the Disasters Emergency Committee to help those displaced and dispossessed. Now we will have to work to replenish the funds – look out for more initiatives in the coming weeks.  Minutes of the meeting will be in the members' area soon.
Ian Malton gave us a well researched talk on the state of development of electric vehicles and the likely future advantages and disadvantages.  As with all the technologies for mitigating climate change that we have looked at it seems that we are unprepared and much has not been thought through.
Sam James came to tell us about her embryo plans for creating youth services in Reepham and the surrounding areas. She has made some good contacts and a plan of action.  The Club will help where we can.
Thank you to all who took part in our quiz, returning after a two year enforced gap. More then 70 gathered at Reepham College to pit their wits against their neighbours. Nearly £600 was raised for our charities.
Peter Williams give us an informative and understandable talk about the benefits and pitfalls of heat pumps. This is part of our look at all aspects of combatting global warming. It seems that they are ideal for new builds but more questionable as a retrofit unless there are very high levels of insulation.
A well attended lunchtime meeting means that we will continue to experiment with this timing next winter.  We debated the reasons behind the growth of populations all over the world. Realising that an ageing population is the problem we came to no particular conclusion.
We had an excellent presentation from the Nancy Oldfield Trust who make it possible for the disabled to enjoy being on the water on the Broads. The way they continue to adapt boats of meet the needs of different groups in safety is particularly impressive.
Peter Ross entertained us with his experiences on an aircraft carrier during the Falklands War. It was fascinating too look back after 40 years and hear how the conflict developed and was resolved.
Our first business meeting of the year got a lot done.  We have plans to plant lots of trees to celebrate Her Majesty's jubilee. Among other donations planned we are sending £1800 to Aquabox who send fresh water kits to disaster areas such as Tonga. We heard about the continuing success of the Sunshine Memory Cafe.
Our first meeting for some time – good to be sitting down to eat together. Unfortunately we were unable to have the planned talk on electric vehicles – something to look forward to.  However, Peter Underwood  stepped into the breach and entertained us with the history of Bawdeswell Garden Centre and the secrets of its success.
Delightful to see so many partners and old friends at our Christmas lunch at Crostwick Old Rectory. As it turns out, our lat event of the years as our 20 Dec meeting was cancelled because too many members had family commitments and a degree of caution seems sensible.
Roy Sherlock continued his father in law's wartime experience from being shot down through prisoner of war camps ending up at the infamous Stalag Luft 3. We heard a fascinating mix of bravery, tragedy and deprivation not entirely in line with the fiction of the period.
Members have erected the Christmas Tree in the Market Square, with President John validating Newtons' theory of gravity, thankfully without serious injury.
Monday saw a pleasant evening of fellowship with our first turkey meal of the season. John Sizeland gave us an interesting talk about his career in agronomy and we look forward to him becoming a member in due course.
Our zoom business meeting covered a lot of ground. Thank you to Jim for comprehensive financial updates in his last work as our treasurer – welcome George.  Minutes are in the members' area.
A friendly fellowship evening where there was the opportunity to air any concerns about activities and organisation. The pandemic and its consequences are still with us but we are striving to get back to normal.
Since the world as been discussing climate change at COP 26, we felt we should do our bit. Jim Fraser gave us an informed view of the current predictions and some practical actions that we can take to mitigate them. There is much more to come, with future talks on electric cars, heat pumps, food and farming.
For the first time for many months we welcomed our partners for dinner. It was good to have a catch up and there was no shortage of conversation.
We welcomed Paul Mitchell, Chair of Reepham Town Council, who told us more of the work of the Council and its current priorities. We were reminded of the varied nature of the Council's responsibilities and the need for more people to come forward and join in.  No doubt members will be thinking how they can help.
We were joined by Emma Edgill and Alex Edgar from Reepham High School and Sam James on behalf of the Primary School to discuss ways in which the Club can help our schools. We have enjoyed involvement in many projects and discussions over the years, although most of these have been in abeyance during the pandemic.  We are asked to help immediately with careers days and provision of governors.  However, many other ideas were put forward and will be considered by our Education team.
We had one of our debates – this time on the subject of assisted dying – possibly tempting fate in view of our average age. We were well informed on the issues by George from his experience in NHS management and Arthur from a theological and spiritual perspective. After an interesting discussion, the vote was overwhelmingly in favour.
We welcomed Ann Middlemass and Janet Archer from the Reepham Archive who gave us a fascinating insight into their collections and how they build them.  The town is lucky to have such an enthusiastic band of volunteers. Many members will want to find out more about local families, buildings and events over the years.
Well he did it.  Arthur preached for ten hours art St Mary's Reepham and raised £3000 in sponsorship. What an achievement. Members, friends and passers by called in during the day. Melanie listed for ten hours – also an achievement.  Well done both and thank you Arthur.
Our Special General Meeting agreed the officers for the year ahead – the full team is listed under Contacts. The meeting then heard about the success of the August Food Festival and settled 29 May 2022 as the date for the next festival.  The team also reported on the excellent initial launch of the Sunshine Cafe for those living with dementia and related conditions.
Members were entertained by Reepham Scouts, shown round their extensive facilities and given an excellent meal.  The Scouts are extremely popular with more than 40 of all ages waiting to join.  The limiting factor is the number of volunteer leaders so they would like to hear from anyone who has a contribution to make. Find them at https://www.reephamscouts.org.uk/contact.html
Our fourth food festival proved a great success after much hard work.  We were hit by a torrential downpour for the first hour or so but then the sun and the crowds came out and our stall holders had a good afternoon.  Many thanks to all members and volunteers who made it work.  Now we look forward to 29 May 2022 when we will be in action again.
Our Business Meeting concentrated largely on the Food Festival next weekend. Ian and his team seemed to have everything planned and some last minute arrangements were made. Minutes will be published in the members' area soon.
Members were very sad to hear of the sudden death of Richard Blyth, a recent member and past president.  Our thoughts are with Gillian and their family.
The first meeting to introduce the Sunshine Cafe was a great success, with many helpful suggestions from our guests and a warm welcome for the idea.  The Cafe for those living with memory loss and their carers will launch on 23 September.
Good to get out and about again with a City Walk.  Jan King introduced us to bits of Norwich that we might have thought we knew – but with some fascinating historical and architectural detail. City walks are a valuable institution and great fun. Let's hope they keep going.
Diana Rackham from the Friends of the Norfolk Dialect spoke to us in dialect and English about their work and entertained us with some stories and examples of a voice that is always in danger of being lost.  Some members revealed surprisingly local origins.
A complicated business meeting where we heard about progress with the Sunshine Cafe and Food Festival and our proposal to install broadband in St Michaels.  We are still wrestling with arranging safe face to face meetings in the current changing situation.
We had one of our famous debates – this time on the future of royalty in this country. Trevor Nelson introduced with a few facts and figures and we concluded that a bit of slimming and modernisation was in order.  The wide range of discussion is shown by the suggestion that we should sell excess Norfolk churches to Americans.
We had a presentation from Richard Cooke on the Black Death to look at comparisons with our present situation and draw conclusions and lessons. It could not be as bad.
At our presidential handover (via Zoom of course) John Pickering took over from Tony Williams. With all the confusion of the pandemic, Tony has served two terms – an unprecedented commitment to keep the club together in these difficult times.  John unveiled an exciting programme to get started as we hopefully come out of lock down and can meet and do business more normally. Details of the programme will be posted on this site soon.
Dr Agata Gomulka from the team at Norwich Castle gave us an interesting insight in the work going on to restore the Castle to something nearer its Norman origins. They are recreating tapestries, hangings and furnishings in a way that would be recognisable to the 11th Century designers.
We had an update on the Tiger Project – work at the UEA to distinguish between prostate cancers to identify the correct course of treatment.  The Club has supported the project – as we have a few very interested members.
Sophie Ellis discussed the many aspects of issues surrounding women in prison.
A business meeting where we discussed life, the universe and everything.  The big question was where we and Rotary will be in a few years time and should we do anything about it. In the end we decided that we were pretty much happy as we are. Which is good.
Our President Tony Williams updated us on the work of the Synergy Academy Trust that looks after our local schools and many more. The Trust has made great progress and grown strongly since its foundation. Members were interested to hear how this new way of managing education is progressing.
A meeting fully devoted to rat-proof squirrel enclosures with all sorts of ideas – using concrete, wire mesh, shipping containers, boat hulls and more. Our experts are conducting further research to identify the optimum solution.
Our AGM and business meeting.  Once again over Zoom which aids efficiency and mostly speeds things up. John Pickering set out his team for the year.  Of course, we cannot yet know what sort of year it will be, but we are there to respond to it.
We heard from Matt Tebbutt of Whitwell Hall on the excellent work they do introducing school kids to the countryside with a whole range of outdoors activity. Hopefully they can soon get back to a full programme of activity. We have been asked to help with renovating their enclosures for breeding red squirrels. The big problem is making them rat-proof: any suggestions would be gratefully received.
We heard an excellent recorded presentation from Sophie Philip who is sponsored by Rotary in Australia to study at Cambriudge.  Her doctorate is looking at the new English law against coercive control – the first such law in the world. We learned the purposes behind the act and how the law is being applied to try and reduce poor behaviour.
Robin Wraight joined us to talk about our work with young people.  He is Chair of Youth Services for our Rotary district.  He is building a database and sharing information about successful projects across the East of England.  Here in Reepham we are looking forward to getting back to our usual activities: Youth Speaks and Masterchef competitions, mock interviews and reading support and work with allotments and gardens.
A business meeting with a lot done: we discussed our food festival, mentoring possibilities and projects for environmental sustainability.  Also some views on our future programme as we emerge from lockdown and contemplate the future. Minutes will be in the members' area soon.
We discussed impacts of the pandemic – following on from the previous meeting.  The main take was the need for planning for old age, illness and death.  However, asked to vote whether the pandemic was a disaster or an opportunity, more than 80% decided it was an opportunity.
Another Rotary together talk – this time with campaigner Esther Rantzen.  Lively and interesting debate afterwards which will continue for our next meeting.
We welcomed District Governor Jonathan King for a Zoom update on the wider world of Rotary.  We share with many other clubs the challenge of attracting new members – particularly those below pensionable age.  A lively discussion ensued as ever.
Dr Allan Parker gave us a fascinating presentation on the Langham Dome.  While some of us visited a few years back we all learned a great deal more this time.  It is the only preserved world war 2 anti-aircraft training facility. Ingenious technicians created the first use of virtual reality to train and select gunners without wasting time, ammunition and money. Now a museum and working example, the Dome is well worth a visit when we are allowed out again.
We welcomed back school allotment expert Matt Willer to talk about his new charity – The Papillon Project. We were proud to be early helpers of his first project at Reepham High School started six years ago.  He is now working with 20 other schools around Norfolk. He has demonstrated that gardening is an excellent way of teaching and stimulating children and involving local communities.
We tapped into a Rotary meeting with Virginia McKenna and Will Travis to hear about their efforts to rescue zoo animals and, where feasible to return them to the wild. A lively discussion ensued which took in everything from birth control to euthanasia as solutions to the threats to the plant's wildlife. .
We got through a lot of work at a well attended business meeting. The first pleasant task was to present a Reepham Rotary Community Service Award to Oonagh Walsh for all the good work done by the Reepham Good Neighbour Scheme.  Oonagh has led the RGNS for six years and it has played a really important role in helping the vulnerable in the community in these difficult times.
For the rest of our meeting we looked forward to the prospect of being able to get back to our community work.  The Food Festival, a Summer Concert and the Dementia Cafe are all planned, but of course subject to us all being able to meet again safely.
Sue from Vattenfall made a welcome return online visit to update us on progress with the North Sea wind energy projects.  An excellent presentation detailed all the work they are doing to bring a complex project to fruition. Naturally some lively questions from members.
Our first meeting of the new year provided a welcome opportunity to renew online acquaintance after the slightly festive season. Plans for getting on with life are stalled by virus resurgence – but we can still manage a lively debate on pretty nearly anything from wind power projects to running the country.
The usual silliness of Boy's Night had to be transferred to Zoom which put the mockers on the paper aeroplane challenge.  However Paul, our Master at Arms, came up with some suitably silly videos with essential technical support from John Tym. Other members chipped in with jokes and stories and some suitable fines were imposed.
This was our Christmas with partners – but eating and drinking at home. On Zoom there were some festive costumes and a good turnout – lovely to see everyone.  Trevor and Hazel entertained us with a fascinating quiz – closely fought but won by Lesley and Richard who will have a large bottle of wine for lock-down Christmas thanks to President Elect John.
We welcomed via Zoom Roz Adamson, a trustee of Aquabox, a charity that we have supported for more than 20 years. Rotary-led Aquabox ships water cleaning equipment to disaster areas around the world to meet the first humanitarian need. Our regular contributions are funded by our 100 club which is open to all. Click here to find out more.
Another Rotary talk – this time from Marilyn Fitzgerald on microfinancing.  Amazing success has been achieved in supporting new small business in developing and developed countries.  This may be a good outlet for our funds and our talents – a subject for further exploration.
A Zoom business meeting for these strange times with look at last year's audited accounts. Over £10,000 went to various local and international charities, but it may be difficult to do as much this year.  However we are able to send further funds to Aquabox emergency relief, Malaika Kids and our local Covid recovery fund. Time and vaccine programmes will dictate how soon we can get back to normal community activity.
Our Zoom meeting watched a presentation from Dr Michel Zaffran who is about to retire as head of the WHO Director of Polio Eradication. He praised the long involvement of Rotary around the world for contributions of over $2billion, countless man hours and government and industry lobbying. Today polio is found only in Pakistan and Afghanistan but work goes on to inoculate children to finish a long job.
We had Arthur's delayed lecture on impressionist painters.  This time technology worked well and we had a fascinating tour of the great works between Constable and Picasso with lots of detail behind many well known paintings.
An informative presentation from Anglian Water prompted a lively discussion and some tricky questions for Amy – well handled and enjoyable. Sadly the technology cut off before she could be properly thanked.
Technical problems clouded the zoom meeting as Arthur's broadband failed him – spookily just after he had mentioned the Hermitage in Russia.  Maybe that was the reason replacement videos would not play either. Arthur and the Impressionists will return.
The Reepham Rotary Recovery Initiative has passed £2,000 – well on its was to our initial target.  However we will keep going as there is going to be greater need for help in the coming months.
A fellowship meeting over Zoom. John Tym had found some historic film of the City of Norwich which brought out the age of members who could remember many of the events and places of the 1950s and 60s.
Rev Keith Rengert, our local Vicar joined us to talk about his work as a chaplain – particularly to the East of England Ambulance Service and the East Anglian Air Ambulance.  He is also chaplain to Reepham High School and College with which we have close links.
Once again George made us think.  This time on genetic modification: the whys, hows, benefits and consequences.  A lot to ponder for the future. No doubt many debates carried on after his zoom presentation.
We got through a lot in our business meeting. Finally released grant to EACH for children's play equipment; sorting a Christmas tree for (suitably distanced) erection in the market place; and funds for for the Reepham Rotary Recovery Initiative. Minutes will be in the members' area soon.
We heard from Kate King at Reepham Primary School about help needed with outdoor learning.  We are hoping to provide some wise hands to supervise simple tool work, den building and nature study.  It will be good to find some things we can safely do in these difficult times.
Thanks to George Forster we now know more than Darwin did about evolution. Having learnt the science behind the epigenome we may now have to have a serious ethical debate about genetics.  This week we say 'goodbye' to Eileen and Terry Sutton who leave for their new life in Kent; we wish them well.
Our first meal together since the beginning of March – well arranged and suitably distanced. Good to be back with Avril and thanks again to Micheal Jones for use of the barn.  After discussion we will alternate between similar meetings and use of zoom for those who prefer to avoid contact.
We met for a socially distanced, well sanitised drink in the Jones' Farm Barn.   Great to be back in proper contact – although more difficult to mute people.  Agreed it worked so well as a venue that will have a meal in a fortnight's time. Thank to Michael Jones and Robert Briggs for organising.
An efficient business meeting on Zoom saw us sort out some future fund raising plans. We also agreed some new plans for meeting up from time to time – safely and suitable spaced. Minutes will be in the members' area soon.
Our first face to face meeting – or mask to mask with distance. Thanks to Peter Underwood for use of wide open space at the garden centre.  15 members met for beer and catch up – and all sorts of plans for future meetings.
So now we know our chasubles from our thuribles. Ven Arthur Hawes took us through the many features and artifacts to be found in cathedrals and churches.  The examples ranged from St Mark's, Venice to St Andrew, Thurning in a fascinating talk.
Clare and Mike Coote joined us to talk about their work with Hearing Dogs for the Deaf.  They are involved in training dogs and spreading the word about the charity.  They were ably assisted by Watson, a dog in training who behaved impeccably except, quite reasonably, when a cat was about.
The Club has sent £5000 to East Anglian Children's Hospices to pay from scrubs and other PPE equipment at the three hospices. Rotarian Roy Sherlock arranged for a grant from the Rotary International Disaster Relief Fund. See more here.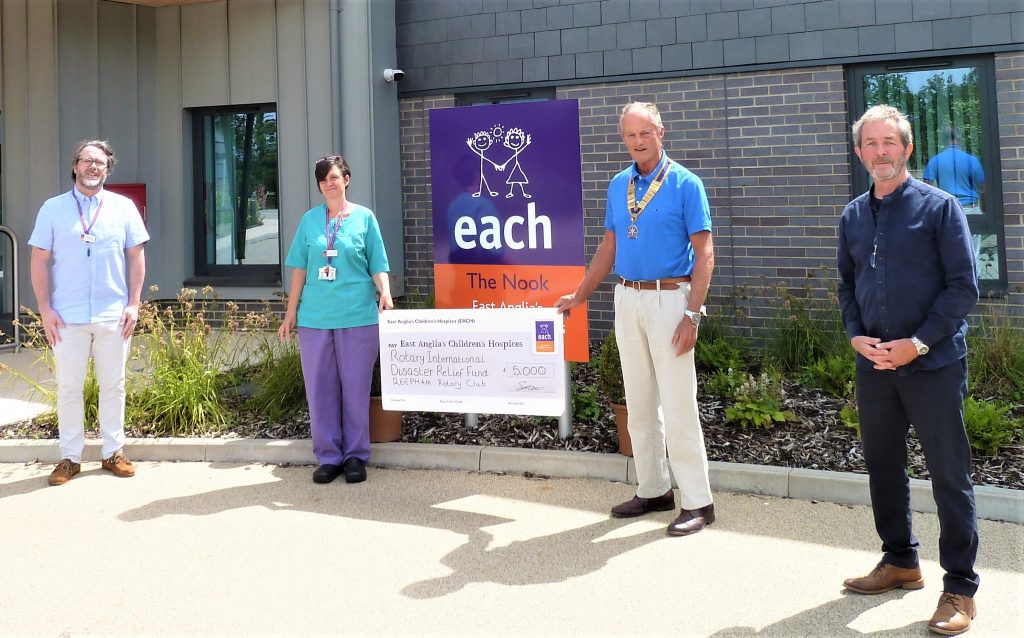 Architect Ian Malton took us through the design and planning for a new hotel he is working on in Norwich.  The challenges of developing an existing building in a mediaeval city were set out in a fascinating talk.
A business meeting with a lot to think about. We are trying to work out how we can safely meet again and enjoy each others' company.  Plenty of plans for helping our community as soon as we can, with a major fund raising drive for EACH and new schools projects in Reepham. George Forster volunteered as our first Environmental Officer.
An evening of fellowship with some interesting discussions: Can Ian & Lin survive the camper van?  Are there safe ways for us to meet up in the near future – perhaps al fresco? Can we find some more speakers of interest?
Our virtual charter night on Zoom.  Attendance a bit diminished by illness and password confusion but good to see many partners joining in for a drink and a chat.    Excellent quiz thanks to Trevor, won by brainy Jim, was followed by some jokes of variable quality.  Tony Williams handed over to Tony Williams for another year (we live in strange times).  Paul as Master at Arms handed out some well deserved fines to various miscreants.
George Forster bamboozled us with 20 minutes to the edge of the universe, a brief history of creation and the amazing dimensions of particles and outer space. How small we are.
We welcomed Assistant District Governor Philip Hunt to our Club Assembly. President Tony Williams and committee chairs took us through plans for the year ahead. Necessarily much that is planned is uncertain. However there are many good ideas for community involvement and fund raising.  Reports are in the members' area.  More public news as ideas develop.
Arthur talked to us about the emergence and history of Romanesque architecture (which we called Norman) with many splendid examples and much informed commentary.
Richard Cooke talked about his experience of tracing his ancestors and listed the main sources and how to find them.  His researches had thrown up some unexpected family skeletons but no great riches.
An evening of fellowship – with numbers limited by the bank holiday. Made it easier to catch up on news in the Zoom format.
A zoom business meeting efficiently conducted. We agreed where our latest round of charitable donations should go, although future fundraising will be difficult until we and others can gather. Papers on constitutional changes are in the members' area.
Toby James, Professor of Politics and and Public Policy at UEA returned (via Zoom) to discuss the potential impact of Covid 19 on the future of democracy. An interesting (if somewhat worrying) talk with a lot of questions and opinions afterwards. 25 members and guests with some partners enjoyed an informative evening.
Roy Sherlock entertained us with the wartime exploits of his father-in-law Neil Stebbings. With a fascinating amount of detail, Roy took us through his training as a fighter pilot, service in North Africa and shooting down. There wasn't time to go through his prison time, ending up at Stalag Luft III. Hopefully another talk in the future.
Our on-line AGM attended by most members – with added live voting.  Papers are in the members' area and will be joined by the minutes soon.  In view of unusual times and John Pickering's current workload we are deferring presidential handover for a year.  Tony Williams has kindly agreed to serve for a further year to give him a chance to complete more of his planned projects.
Our first outside speaker on Zoom – and everything worked well.  Katie Pountain from UEA updated us on the prostate diagnostic programme to which we are contributing funds. With the original 'Tiger Test' and new ideas, they are well on track to better distinguish between those conditions that need treatment and those that are better left alone.  It was also impressive to hear the way that UEA has reacted and diverted resources to combat Covid 19 – from research skills and laboratory facilities to providing accommodation for front line staff from the N&NUH.
Another interesting Zoom meeting with nineteen members – even though we would not normally meet on a Bank Holiday – but these are strange times. An interesting discussion about how Zoom works with some members learning how to change their background pictures. We trust that online behaviour will be better when we have a guest speaker next week.  Otherwise interesting discussion on wind farms and solar power – we really should be running the country.
Some 24 members again for a Zoom meeting – good to be in touch. A short quiz tested a few brains and then Jim gave us a geographer's view of the worldwide statistics on Covid 19. Sometimes the more you look at statistics the more confused you become, but Jim made sense of it for us.
Excellent attendance via Zoom again – 24 members counted.  Hopefully others will join.  George Forster gave an illuminating presentation on viruses – so we all know a great deal more about what we are facing.  The on-line raffle worked well too.  President Tony and team are now working on a programme to last us through the isolation period.  It's very good to be in touch.
First online meeting with Zoom. Ably set up by John Tym.  A good deal of hilarity but it worked and so good to see friends when we cannot meet.  19 attendance not at all bad. This will become regular we are sure while we all lock done in the public interest.
It is now apparent that our regular Monday meetings are no longer feasible. The Council will review this decision on a month by month basis.  Instead we will be attempting virtual meetings using ZOOM. We will report on the success of this.
A sad business meeting as the Corvid 19 virus will potentially put paid to much of our programme of meetings and work in the community. Meetings will continue while enough members wish – the cut off for apologies will be brought forward to the Thursday night.
The Food Festival Committee have taken the decision to postpone the next event to 30 May 2021. All sponsors and stallholders are being contacted.  See the full statement here.
Peter Williams presented plans for the Sunshine Cafe for Dementia sufferers and their carers.  Members agreed that this is a thoroughly worthwhile project. Inevitably there will now be delays but planning will continue. Members can see plans with their documents.
Deborah and Sarah from the Wymondham Dementia Support Group came to tell us about their valuable work and the progress they have made after six years.  This will help greatly and inform our plans as we look at what can be done to support dementia sufferers and their carers in Reepham.
Scott McKay told us about the work of the Norfolk Fostering & Adoption Service, recruiting carers for Norfolk youngsters.
Good to introduce more friends from Reepham to our club.  Non members are always welcome to meetings of interest and to help with our community projects.
Many thanks to all who enjoyed our annual Quiz and Chips. A keenly fought contest raised £650 for our charities.
Inspirational presentation from Joh Drake about the work of Musalaha – working for reconciliation and peace in the Middle East.  We learnt about ways of bringing people together and teaching them more about each other to reduce tension.
Very sorry to record the death of Steve Catchpole – long time member and friend of all.  A great Rotarian who has done much for many over the years. A long illness bravely borne.  Our thoughts are with Patsy, Zoe, Gary and the family.
We heard about the work of Juventas who support young people into independent living. With a strong emphasis on education they help young adults leaving care and unaccompanied asylum seekers towards becoming confident citizens.  The urgent need is for old laptops and tablets to help with learning and training.
Much fun with Haggis, Piper and ethnic dress – some authentic, some not.  Excellent funny stories  from Cliff and Paul and thanks to Chris, Tony and Roy for completing the formalities – and to Andy for catching and serving haggis.
Robert Briggs told us about the charming dictator Qin She Huang of China whose 200BC mausoleum contained the Terracotta Army.
An evening of fellowship agreed Peter Williams investigation of an exciting new idea and some further discussion about future Club strategy.
An efficient business meeting.  A team has been formed to look at future strategy for the club.  All members are invited to contribute.