A Zoom business meeting for these strange times with look at last year's audited accounts. Over £10,000 went to various local and international charities, but it may be difficult to do as much this year.  However we are able to send further funds to Aquabox emergency relief, Malaika Kids and our local Covid recovery fund. Time and vaccine programmes will dictate how soon we can get back to normal community activity.
Our Zoom meeting watched a presentation from Dr Michel Zaffran who is about to retire as head of the WHO Director of Polio Eradication. He praised the long involvement of Rotary around the world for contributions of over $2billion, countless man hours and government and industry lobbying. Today polio is found only in Pakistan and Afghanistan but work goes on to inoculate children to finish a long job.
We had Arthur's delayed lecture on impressionist painters.  This time technology worked well and we had a fascinating tour of the great works between Constable and Picasso with lots of detail behind many well known paintings.
An informative presentation from Anglian Water prompted a lively discussion and some tricky questions for Amy – well handled and enjoyable. Sadly the technology cut off before she could be properly thanked.
Technical problems clouded the zoom meeting as Arthur's broadband failed him – spookily just after he had mentioned the Hermitage in Russia.  Maybe that was the reason replacement videos would not play either. Arthur and the Impressionists will return.
The Reepham Rotary Recovery Initiative has passed £2,000 – well on its was to our initial target.  However we will keep going as there is going to be greater need for help in the coming months.
A fellowship meeting over Zoom. John Tym had found some historic film of the City of Norwich which brought out the age of members who could remember many of the events and places of the 1950s and 60s.
Rev Keith Rengert, our local Vicar joined us to talk about his work as a chaplain – particularly to the East of England Ambulance Service and the East Anglian Air Ambulance.  He is also chaplain to Reepham High School and College with which we have close links.
Once again George made us think.  This time on genetic modification: the whys, hows, benefits and consequences.  A lot to ponder for the future. No doubt many debates carried on after his zoom presentation.
We got through a lot in our business meeting. Finally released grant to EACH for children's play equipment; sorting a Christmas tree for (suitably distanced) erection in the market place; and funds for for the Reepham Rotary Recovery Initiative. Minutes will be in the members' area soon.
We heard from Kate King at Reepham Primary School about help needed with outdoor learning.  We are hoping to provide some wise hands to supervise simple tool work, den building and nature study.  It will be good to find some things we can safely do in these difficult times.
Thanks to George Forster we now know more than Darwin did about evolution. Having learnt the science behind the epigenome we may now have to have a serious ethical debate about genetics.  This week we say 'goodbye' to Eileen and Terry Sutton who leave for their new life in Kent; we wish them well.
Our first meal together since the beginning of March – well arranged and suitably distanced. Good to be back with Avril and thanks again to Micheal Jones for use of the barn.  After discussion we will alternate between similar meetings and use of zoom for those who prefer to avoid contact.
We met for a socially distanced, well sanitised drink in the Jones' Farm Barn.   Great to be back in proper contact – although more difficult to mute people.  Agreed it worked so well as a venue that will have a meal in a fortnight's time. Thank to Michael Jones and Robert Briggs for organising.
An efficient business meeting on Zoom saw us sort out some future fund raising plans. We also agreed some new plans for meeting up from time to time – safely and suitable spaced. Minutes will be in the members' area soon.
Our first face to face meeting – or mask to mask with distance. Thanks to Peter Underwood for use of wide open space at the garden centre.  15 members met for beer and catch up – and all sorts of plans for future meetings.
So now we know our chasubles from our thuribles. Ven Arthur Hawes took us through the many features and artifacts to be found in cathedrals and churches.  The examples ranged from St Mark's, Venice to St Andrew, Thurning in a fascinating talk.
Clare and Mike Coote joined us to talk about their work with Hearing Dogs for the Deaf.  They are involved in training dogs and spreading the word about the charity.  They were ably assisted by Watson, a dog in training who behaved impeccably except, quite reasonably, when a cat was about.
The Club has sent £5000 to East Anglian Children's Hospices to pay from scrubs and other PPE equipment at the three hospices. Rotarian Roy Sherlock arranged for a grant from the Rotary International Disaster Relief Fund. See more here.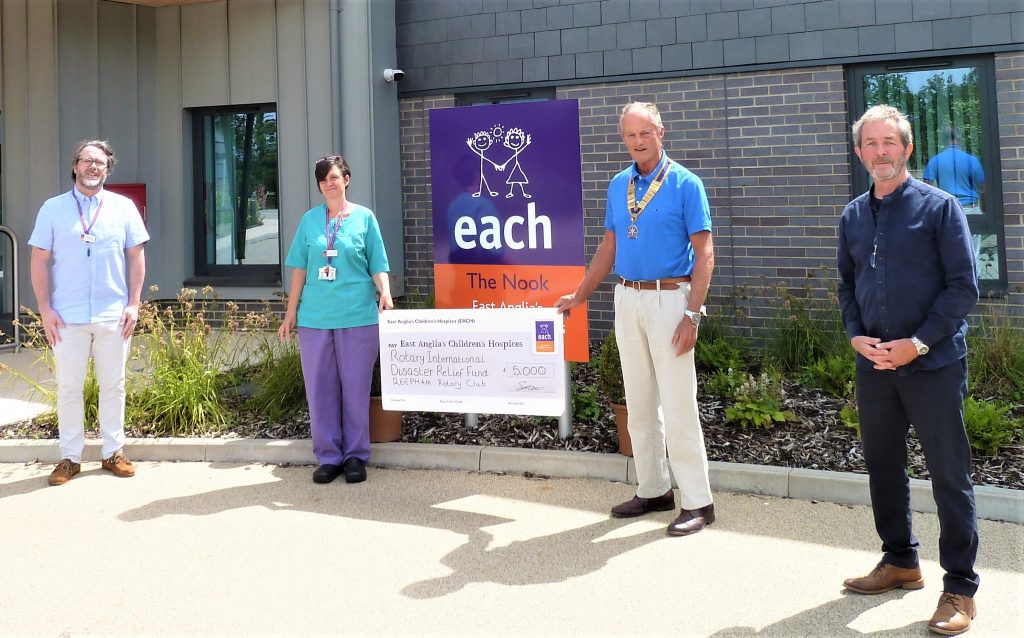 Architect Ian Malton took us through the design and planning for a new hotel he is working on in Norwich.  The challenges of developing an existing building in a mediaeval city were set out in a fascinating talk.
A business meeting with a lot to think about. We are trying to work out how we can safely meet again and enjoy each others' company.  Plenty of plans for helping our community as soon as we can, with a major fund raising drive for EACH and new schools projects in Reepham. George Forster volunteered as our first Environmental Officer.
An evening of fellowship with some interesting discussions: Can Ian & Lin survive the camper van?  Are there safe ways for us to meet up in the near future – perhaps al fresco? Can we find some more speakers of interest?
Our virtual charter night on Zoom.  Attendance a bit diminished by illness and password confusion but good to see many partners joining in for a drink and a chat.    Excellent quiz thanks to Trevor, won by brainy Jim, was followed by some jokes of variable quality.  Tony Williams handed over to Tony Williams for another year (we live in strange times).  Paul as Master at Arms handed out some well deserved fines to various miscreants.
George Forster bamboozled us with 20 minutes to the edge of the universe, a brief history of creation and the amazing dimensions of particles and outer space. How small we are.
We welcomed Assistant District Governor Philip Hunt to our Club Assembly. President Tony Williams and committee chairs took us through plans for the year ahead. Necessarily much that is planned is uncertain. However there are many good ideas for community involvement and fund raising.  Reports are in the members' area.  More public news as ideas develop.
Arthur talked to us about the emergence and history of Romanesque architecture (which we called Norman) with many splendid examples and much informed commentary.
Richard Cooke talked about his experience of tracing his ancestors and listed the main sources and how to find them.  His researches had thrown up some unexpected family skeletons but no great riches.
An evening of fellowship – with numbers limited by the bank holiday. Made it easier to catch up on news in the Zoom format.
A zoom business meeting efficiently conducted. We agreed where our latest round of charitable donations should go, although future fundraising will be difficult until we and others can gather. Papers on constitutional changes are in the members' area.
Toby James, Professor of Politics and and Public Policy at UEA returned (via Zoom) to discuss the potential impact of Covid 19 on the future of democracy. An interesting (if somewhat worrying) talk with a lot of questions and opinions afterwards. 25 members and guests with some partners enjoyed an informative evening.
Roy Sherlock entertained us with the wartime exploits of his father-in-law Neil Stebbings. With a fascinating amount of detail, Roy took us through his training as a fighter pilot, service in North Africa and shooting down. There wasn't time to go through his prison time, ending up at Stalag Luft III. Hopefully another talk in the future.
Our on-line AGM attended by most members – with added live voting.  Papers are in the members' area and will be joined by the minutes soon.  In view of unusual times and John Pickering's current workload we are deferring presidential handover for a year.  Tony Williams has kindly agreed to serve for a further year to give him a chance to complete more of his planned projects.
Our first outside speaker on Zoom – and everything worked well.  Katie Pountain from UEA updated us on the prostate diagnostic programme to which we are contributing funds. With the original 'Tiger Test' and new ideas, they are well on track to better distinguish between those conditions that need treatment and those that are better left alone.  It was also impressive to hear the way that UEA has reacted and diverted resources to combat Covid 19 – from research skills and laboratory facilities to providing accommodation for front line staff from the N&NUH.
Another interesting Zoom meeting with nineteen members – even though we would not normally meet on a Bank Holiday – but these are strange times. An interesting discussion about how Zoom works with some members learning how to change their background pictures. We trust that online behaviour will be better when we have a guest speaker next week.  Otherwise interesting discussion on wind farms and solar power – we really should be running the country.
Some 24 members again for a Zoom meeting – good to be in touch. A short quiz tested a few brains and then Jim gave us a geographer's view of the worldwide statistics on Covid 19. Sometimes the more you look at statistics the more confused you become, but Jim made sense of it for us.
Excellent attendance via Zoom again – 24 members counted.  Hopefully others will join.  George Forster gave an illuminating presentation on viruses – so we all know a great deal more about what we are facing.  The on-line raffle worked well too.  President Tony and team are now working on a programme to last us through the isolation period.  It's very good to be in touch.
First online meeting with Zoom. Ably set up by John Tym.  A good deal of hilarity but it worked and so good to see friends when we cannot meet.  19 attendance not at all bad. This will become regular we are sure while we all lock done in the public interest.
It is now apparent that our regular Monday meetings are no longer feasible. The Council will review this decision on a month by month basis.  Instead we will be attempting virtual meetings using ZOOM. We will report on the success of this.
A sad business meeting as the Corvid 19 virus will potentially put paid to much of our programme of meetings and work in the community. Meetings will continue while enough members wish – the cut off for apologies will be brought forward to the Thursday night.
The Food Festival Committee have taken the decision to postpone the next event to 30 May 2021. All sponsors and stallholders are being contacted.  See the full statement here.
Peter Williams presented plans for the Sunshine Cafe for Dementia sufferers and their carers.  Members agreed that this is a thoroughly worthwhile project. Inevitably there will now be delays but planning will continue. Members can see plans with their documents.
Deborah and Sarah from the Wymondham Dementia Support Group came to tell us about their valuable work and the progress they have made after six years.  This will help greatly and inform our plans as we look at what can be done to support dementia sufferers and their carers in Reepham.
Scott McKay told us about the work of the Norfolk Fostering & Adoption Service, recruiting carers for Norfolk youngsters.
Good to introduce more friends from Reepham to our club.  Non members are always welcome to meetings of interest and to help with our community projects.
Many thanks to all who enjoyed our annual Quiz and Chips. A keenly fought contest raised £650 for our charities.
Inspirational presentation from Joh Drake about the work of Musalaha – working for reconciliation and peace in the Middle East.  We learnt about ways of bringing people together and teaching them more about each other to reduce tension.
Very sorry to record the death of Steve Catchpole – long time member and friend of all.  A great Rotarian who has done much for many over the years. A long illness bravely borne.  Our thoughts are with Patsy, Zoe, Gary and the family.
Phil Cane gave us a fascinating talk on beekeeping, with all the attendant worries, costs and benefits.  A long question time showed the extent of members' interest.
We heard about the work of Juventas who support young people into independent living. With a strong emphasis on education they help young adults leaving care and unaccompanied asylum seekers towards becoming confident citizens.  The urgent need is for old laptops and tablets to help with learning and training.
Much fun with Haggis, Piper and ethnic dress – some authentic, some not.  Excellent funny stories  from Cliff and Paul and thanks to Chris, Tony and Roy for completing the formalities – and to Andy for catching and serving haggis.
Robert Briggs told us about the charming dictator Qin She Huang of China whose 200BC mausoleum contained the Terracotta Army.
An evening of fellowship agreed Peter Williams investigation of an exciting new idea and some further discussion about future Club strategy.
An efficient business meeting.  A team has been formed to look at future strategy for the club.  All members are invited to contribute.
Once again an excellent Christmas dinner enjoyed by members and partners. Thank you Avril and team for a thoroughly enjoyable meal and Jane for playing carols for us to sing along.  See you all in the New Year.
Thanks to Master at Arms Paul we amused ourselves with quizzes and challenges.  The ultimate paper aeroplane challenge won by Robert Buxton.
We agreed on the acceptability of increasing taxation to tackle climate change, but we doubted whether our politicians had the wit to do anything about it.
An enjoyable fellowship evening with a debate about the value of royalty best not recorded.
Our business meeting agreed to proceed with the Reepham Food Festival in 2020. Full minutes will be in the members' area.
Rob Briggs and Roy Sherlock raised £2600 sleeping rough in Norwich on Thursday 14 November in support of The Benjamin Foundation see more.
Judith Blackman; Head of the Norfolk & Suffolk Probation Service gave us an excellent talk on the background and work of the Service and potential future development. The many questions from members were a good indication of the depth and quality of the talk.
Robin Baines from Wroxam Rotary came to discuss how we feed the world in future. Some challenging thoughts – including eliminating the 30% waste on the global food chain to feed 10 billion more people.
Baroness Hazel Byford told us more about the work of the House of Lords (and they do quite a lot). Many thanks for a fascinating evening.
We welcomed Aliona Derrett from the Norfolk Deaf Association to tell us about their much needed work with the hard of hearing.
Local author Chris Armstrong returned to give us some insights from his latest book – Scholars; Saints and Sinners. What the clergy of Norfolk got up to in the past makes fascinating reading.
Chris Elliott from the Benjamin Foundation; one of our chosen charities; came to update us on progress. Our contributions are directed specifically at the help for young carers which no longer has authority funding. More to go to this excellent charity and at least two Rotarians will be sponsored for their November sleep out to raise money and draw attention to homelessness.
We welcomed friends from Reepham to an open evening to see what we do. Lots of good ideas exchanged. Hopefully we can involve more interested parties in our programmes and projects.
A businesslike business meeting covered a lot of ground. Jim Fraser was elected as Vice President – to take over in 2020/21. Minutes will be in members' area soon.
Ian Elliot from our Rotary District kindly came to explain how other Rotary Clubs are successfully using social media. We will get better with our tweets and hashtags.
Member John Pickering explained electricity to the meeting. There will be questions later.
Sadly our scheduled speaker was ill so we had an impromptu discussion about publicising ourselves. Ideas ranged from more tweeting to a tree.
A fascinating visit to the Norwich Air Museum where we saw an enormous collection of artefacts from wartime and peacetime flying in Norfolk. Among the aircraft was a Jaguar once flown by past president Steve Griggs – one that he did not crash.
We were at the Aylsham Show running the Art Exhibition. Many visitors and lots sold in the heat. Good income expected for our charities. Thanks to all who helped. Financial results soon.
Our business meeting laid final plans for our Art Exhibition at the Aylsham Show on 26 August. We also addressed ways of attracting new members and succession planning for officers. Minutes will be in the members' area soon.
John Ford told us about the life and work of journalist and author Adrian Bell.
Daniel Nelson gave us a fascinating talk on future developments in air traffic control. As with all theses things; much more complicated than you would imagine.
We welcomed Norma and Rodney Howells to tell us about work with medical detection and assistance dogs – resulting in a small donation
A fellowship evening with a discussion about population.
A brilliant concert at Salle Church by the Tarantara Choir. Thank you very much to the choir and all the helpers.
A business meeting. Papers in the members area soon.
We visited Salle to look round the impressive walled gardens; courtesy of Sir John. We were well entertained at the Earle Arms afterwards.
Charter Night to celebrate the handover of the presidential reins from Steve to Tony. A much deserved Paul Harris award for David Baxter.
A splendid Golf Day organised by Arthur Hawes raised over £3000 for our charities. Thanks to all who took part and sponsored.
At Club Assembly; Tony set out his plans for the year and confirmed the team who will carry them out.
We heard from the team at UEA who are developing the Tiger Test; a new diagnosis to guide treatment of prostate cancer. This is President Tony's charity for the year ahead.
Helen & Keith Rengert; our local priests; came to explain their plans for developing youth leaders. We are ready to help and look forward hearing more of their plans.
Another successful food festival with the help of many. All the details at the Food Festival website
A business meeting and AGM. Papers in the members area.
An evening of fellowship.
We celebrated our 30th anniversary with a service at Little Witchingham; led by Ven Arthur Hawes. This was followed by a splendid lunch at Michael Jones' barn. Photos at JohnTym's site
A fellowship evening. President Steve had unearthed some grainy video of members performing their music hall numbers some years ago. Best not repeated as we might not attract any new members.
Friends from Fakenham Rotary on their scatter night joined us to hear about progress at the Eves Hill Vegetable Project. Hannah Claxton and her team have made great strides in their community growing enterprise.
It was good to see Rotarian Mark Little after a gap of many years. Mark enlightened us on the evils of slavery – still practised around the world and the UK. Much food for thought and action.
We welcomed back Les West to tell us about his time as Steward of Worcester Cathedral – from King John and Prince Arthur to the visit of Queen Elizabeth II.
A businesslike meeting sorted out some useful essentials. Minutes are in the members' area.
Chris Armstrong gave us a well-informed talk on the history of the independent department stories in Norfolk. There were wonderful anecdotes about some fascinating characters -for more detail we will have to buy his book.
A mixture of an evening; starting with an introduction to genetic engineering by George. A fascinating start but further explanation may be necessary. Also a welcome update from George on how Manesty is progressing. District Governor Steve also dropped in to bring us up to date with the world of Rotary.
A welcome return from Patrick Barkham who took us on a fascinating tour of the small islands of Britain as an introduction to his new book. As we contemplate casting ourselves adrift from the rest of the world it is good to know there is more to discover at home.
A cheery fellowship evening with excellent lasagna and an interesting debate prompted by President Steve. Many thanks to all who came to the Quiz & Chips – over £800 for our charities.
Geoffrey Smart gave us a fascinating talk on the search for truth. In this age of massive information overload how to we work out what is fact?
The Venerable Arthur regaled us with golfing stories and courses he has played. There seems to be a remarkable affinity between archdeacons and claret.
We caught up with excellent RHS Allotment Project with an informative presentation from Matt and Lily. Good to see the contribution that learning and fun are making to the school.
Burns Night – with excellent haggis from Avril and a real piper. Good to see so many members and partners joining in the frolics. John Tym's photos here.
A fascinating job talk from George Forster about his work in science education around the world. We look forward to learning more about gene editing when we have our brains in gear.
We started the year with a business meeting – mostly about money. Costs keep going up and fund-raising is harder. Nevertheless treasurer Jim recorded £15k of donations to charities in 2017/8. Meeting minutes are in the members' area.