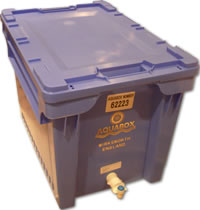 The 100 Club was set up to provide regular funds for the purchase of Aquaboxes. These are water treatment boxes which also contain essential survival items. Each box can treat 18000 litres of water to give a family or a community the most important requirement after a disaster. Disease from untreated water can often cause more death and illness than the original disaster.
In January 2022 we were able to send a further £1800 for the purchase of seven community aquafilters.  Each of these can produce 6 litres of clean water per minute – enough to supply 2800 people. Apart from saving lives and preventing disease, they also eliminates the need for thousands of plastic water bottles.
Whenever there is a major disaster, such as the recent typhoon in the Philippines or the Tongan tsunami, Aquaboxes are dispatched quickly. Because stocks of Aquaboxes and Shelter boxes are always kept ready for dispatch, these are often the first items that reach families in desperate need after a major disaster. Distribution is overseen by local rotary and charity partners.
To join the 100 club, contact organiser Paul Smith 100Club@reephamrotary.org.uk. Each ticket costs £2. Four winning tickets are drawn each month. All funds go to Aquabox which is run entirely by volunteers. See more at www.aquabox.org.