Reepham Rotary has a long history of working closely with our local schools to lend our expertise to the benefit of young people.
Youth Speaks
Seventy guests were enthralled by first-class presentations from Reepham High School students at the finals of Youth Speaks at the college on Wednesday 27thFeb.  The competition was sponsored by Reepham Rotary Club.
Ten finalists, selected in pre-heats by organising teacher Ros Thacker, each stepped forward on stage to give a 3 minute talk under the theme of "I have a dream….". Three minutes may not sound much, but in front of a large public audience it can be daunting for brave school students aged around 12 to 14!
The three judges selected three top places by considering Delivery, Construction & Format and Overall Combination. The 1stplace winner, Florence Mason of year 8, sung the praises of musical skills and education, dreaming of a return to higher priority for music teaching at school. 2ndcame Tom Fears, also year 8, who left the judges bemused by the computer game content but presented it in a most entertaining way. 3rdwas Megan Bale of year 9 who tackled the more serious issue of world water poverty and held the audience spellbound in making the point on premature child deaths. Any one of them could have won as could other contestants. Some otherwise excellent speeches were marked down for excessive use of written notes following understandable nervous forgetfulness.
Peter Day who previously had coached participants was Reepham Rotary MC for the evening, supported by last year's winner Natasha Almeida-Levy. President Steve Griggs presented cash prizes to all contestants along with a trophy and certificates.
Look out for next year's and come along to see what the "Youth of Today" is really capable of!
Many thanks to All, especially the contestants, teacher Ros Thacker and for refreshments supplied by Friends of RHS.
Interview training 
Club members use their business experience to help students with mock interviews and assess business proposals.
Masterchef
As part of the Reepham Food Festival we again supported a Junior MasterChef event on May 10 sponsored by Edwards & Blake.  More details at www.reeephamfoodfestival.org.uk.
Reading support
We provide male role models as reading tutors for youngsters at the Primary School who are falling behind with reading. Here is the team learning to read.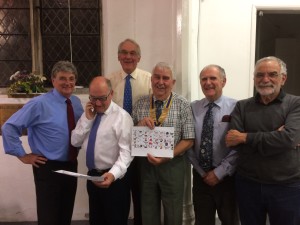 Japanese Garden
The Club has helped with project planning and construction of a Japanese Garden at Reepham Primary School which has an association with a Japanese school.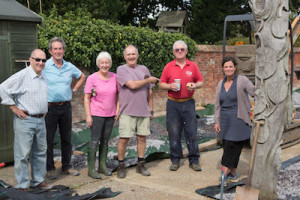 Bicycle Shed
Members recently planned and built an extension to the bicycle shed at Reepham Primary School. With plans by Ian Malton and under the supervision of Gareth Homfray-Davies the project was within the scope of our other unskilled members. Thanks to all who gave up their time.
.